Registration for the 2019-2020 season is now OPEN.

Our programs include Learn-to-Skate (Saturday mornings at the West End Recreation Centre), games, practices, powerskating, tournaments and family events. Catch the spirit and share the fun!
Are You New to Ringette or to the Guelph Ringette Association? Click Here for answers to some of our most frequently asked questions.
ICE ALLOCATION
We know there is more to life than just ringette! Want to know what days of the week we have ice so that you can plan other activities for your player? See below: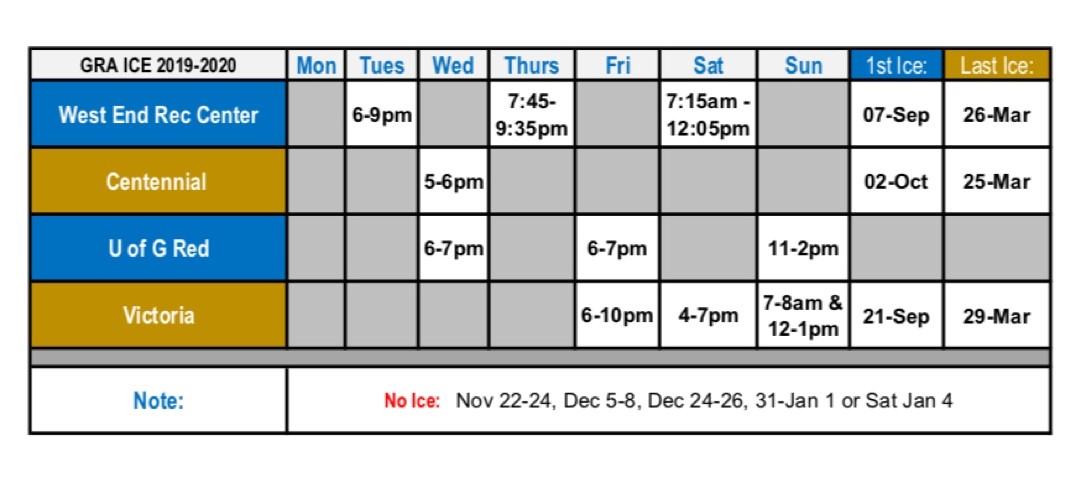 REGISTRATION INFORMATION
REGISTRATION IS NOW OPEN: Please email graregister@guelphringette.ca if you have questions about out Learn to Skate Program. Click here to read about our policies and requirements.
Registration fees are paid in full when processing your registration and vary according to age and the number of players in each family. Please send E-Transfer to payments@guelphringette.ca if paying electronically.
Fundraising applies to all players (U8 and above). It is an opportunity for families to 'recover' a portion of the registration fee.
Provincial/rep fees may apply for U12P, A and AA athletes (payable in September).
New player fee discount (2019-2020 season) applies to all players that are NEW to Ringette (U8- U19) and are NOT currently playing another winter ice sport. $100 will be deducted at time of registration when you select Player History - New To Ringette. This does NOT apply to the U7 or Learn to Skate Program.
New player referral bonus (2019-2020 season) will be paid to current GRA members in good standing that have been named as a referral on any new players registration. This applies to players registering in LTS - U19. The bonus will be paid at the end of the year only when the referred player completes the season. A maximum referral bonus of the total family registration fee will be paid out(fundraising commitment not included). See full details of the terms and conditions here.
FEE SCHEDULE
Year of Birth

Age Division

Registration Fee

Fundraising Deposit

Provincial Fee

Payment in full at time of registration.

Registration closes September 28, 2019.

If paying by E-Transfer, send E-Transfer to payments@guelphringette.ca

Payment mailed in at time of registration but post dated December 1, 2019. Cheque payable to: Guelph Ringette Lottery Trust.

*For U12 Provincial, A & AA players.

Payment will be collected in September by team Manager.

2014 - 2015

2013

(U6)

Learn-to-Skate

U7

$260 Per Player - 20 sessions, Starts TBD Traditionally will be last Saturday in September, or first Saturday in October. Fee includes Jersey and Socks

$300 (per U7 player) - Fee includes Jersey and Socks

N/A

No Raffle Fee @ U7

N/A

2012

2011

U8

U9

$380 (per U8 player)

$485 (per U9 player)

No Early Bird fee available.

U8 - Half Raffle fee $75, payable by 1st and 2nd Player

U9 and Up - Full Raffle

$150 (1st player)

$100 (2nd player)

$0 (3rd player)

N/A

2010

U10

Full Reg Fees After July 1st - $585 - 1st Player

Full Reg Fees After July 1st - $555 - 2nd Player

Full Reg Fees After July 1st - $525 - 3rd Player

$150 (1st player)

$100 (2nd player)

$0 (3rd player)

N/A

2008 / 2009

U12 (Petite)

Full Reg Fees After July 1st - $585 - 1st Player

Full Reg Fees After July 1st - $555 - 2nd Player

Full Reg Fees After July 1st - $525 - 3rd Player

$150 (1st player)

$100 (2nd player)

$0 (3rd player)

NO Raffle for 18+ (OPEN)

$125 - U12P, U14A, U14AA, U16A, U19A

$150 - U16AA & U19AA

Not payable at time of GRA Player Registration

** - No Rep fee for open or regional teams

2006 / 2007

U14 (Tween)

2004 / 2005

U16 (Junior)

2001 / 2002 / 2003

U19 (Belle)

2001 & Prior

18+ (Open) **

Full Reg Fees - $600 - No Early Bird

N/A

2001 & Prior

18+ Shinny

$275
2 Levels of Play
- Advanced/Intermediate
- Learn to Play/Begginer

Register for SHINNY by Google Form HERE

NO Raffle

N/A
If you are looking for financial assistance, there are programs available that MAY be able to help you.
The Children's Foundation Free to Grow Program provides financial assistance for children in need so that they can participate in sports, cultural and recreational activities. For more information about eligibility and how to apply, visit their website at: Free-to-grow
The link to the application is here:
https://freetogrow.childrensfoundation.org/
Another program is the Jumpstart program, Sponsored by Canadian Tire.
http://jumpstart.canadiantire.ca/en.html
Registration Fees cover the cost of our annual Guelph Ringette Association tournament. Fees do not cover the costs of any other tournaments, qualifiers, or provincials.
Safety 1st!
All GRA programs require full equipment including our Learn-to-Skate Program. Equipment includes helmet and mask, neckguard, shoulder pads, elbow pads, gloves, hockey/ringette pants, shin pads, jock/jill, skates and mouthguard (mouthguard is mandatory for all players U7 and up).
Why all the different payments?
Registration, rep and fundraising fees have been separated so families do not have to pay the total amount all at once. We have many families that have multiple players where the cost to play can be significant, therefore the GRA spreads out the fee schedule over a longer time line.
Attention GOALIES!
Do you have your own goalie equipment? If you do, the GRA has a Goalie Rebate Program for our goalies that are providing their own equipment for the ringette season. Click on the PDF Application Form form for further information.
If you have any questions about registration, please contact us.